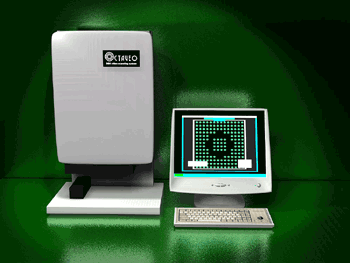 The OCTAVEO family of BGA Inspection systems is a low cost but accurate solution for micro balls inspection. It combines the power of pattern recognition with the power of precision metrology. Structured lighting and highly optimised metrology algorithms provide blazing speed for detection of missing, deformed, or misaligned solder balls as well as isolation of individual ball height deviations from coplanarity. A powerful scripting environment allows test engineers to customise production mode test sequences for individual styles and sizes of BGA chips as well as binning of the measurement results. We offer a variety of pricing options to satisfy the budget requirements of any manufacturing, assembly or test facility.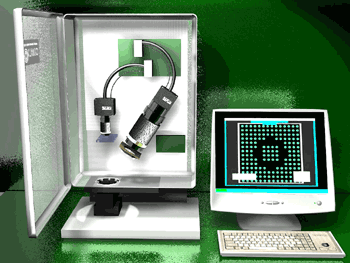 Standard OCTAVEO models are equipped with 1.3 megapizel cameras and optics that were selected for processing solder balls from .3 to .5mm in diameter. Within this range, BGA sizes typically vary from 5 to 13 millimeters. Optional higher resolution cameras and specialised optics can be requested for chips that fall outside of these parameters. The software can handle array sizes up to 30 x 30 balls. Any amount of site depopulation is supported.
BGA chips are presented to a 90 mm wide viewing port located at one end of the enclosure that holds the cameras, optics, lighting, and interface electronics. Chips should be located 2-3 millimeters from the bottom surface of the enclosure, which may be mounted in any orientation.
Features :-
Combined Shape Recognition and Precision Metrology
Fast Shape Uniformity and Coplanarity Measurements (<200ms)
High Measurement Repeatability (2% Typical for 2D Metrology)
Flexible Script Driven Test Sequence
Advanced Grid Fitting Algorithm Detects BGA Chip Warpage
Selectable Site Depopulation
Opto-isolated Input / Outputs
Rugged Industrial Camera Housing
Models 50/80/100/200